Meet Bandu Uikey, assistant conservation officer from the Satpuda Foundation. Lovingly known as Bandu bhau among team members and the local community, he is based out of Pench Tiger Reserve Maharashtra. We speak to him about his inspirational conservation journey thus far and what working in forests has taught him.
Tell us a bit more about yourself and what got you interested in working for the environment
I hail from a small village called Ghatpendhari in Pench Tiger Reserve which is very close to the core area. My father used to work closely with the forest department for contractual work and I used to explore forests with him. I used to love watching birds, rescuing snakes and scorpions and hence you could say that I was always connected to nature.When I was about 16-17 years old, I formed a group with some like-minded youngsters from the area with the aim of supporting the forest department team for carrying out conservation activities like patrolling, combating forest fires, preventing poaching, creating water hotels for wildlife etc.
Following this, I met Kishore Rithe, founder of Satpuda Foundation in 2006 who was making a film on Pench at that time. They required a guide and I took that opportunity up and have been associated with the team ever since.
How does a typical day unfold for you
As a part of our school awareness sessions, we arrange a talk on forests and wildlife for the students. Though these students know about nature, it is usually through stories that they have heard when they were younger. On the other hand, we tell them how tigers are important for forests, water, other wildlife, and ultimately the survival of human beings in a more scientific manner. Also, since unemployment is rampant in our area, we run skill training workshops for the locals. Take for example, as the Lantana weed is widespread in this area and has a bad effect on the health of the local flora, we organized a lantana craft workshop. This helped clear some of the lantana and provided the local community with a livelihood opportunity as they learned how to craft useful items from the collected lantana. Such alternate livelihood options help the locals to move away from forest-dependent livelihoods which is a win for conservation.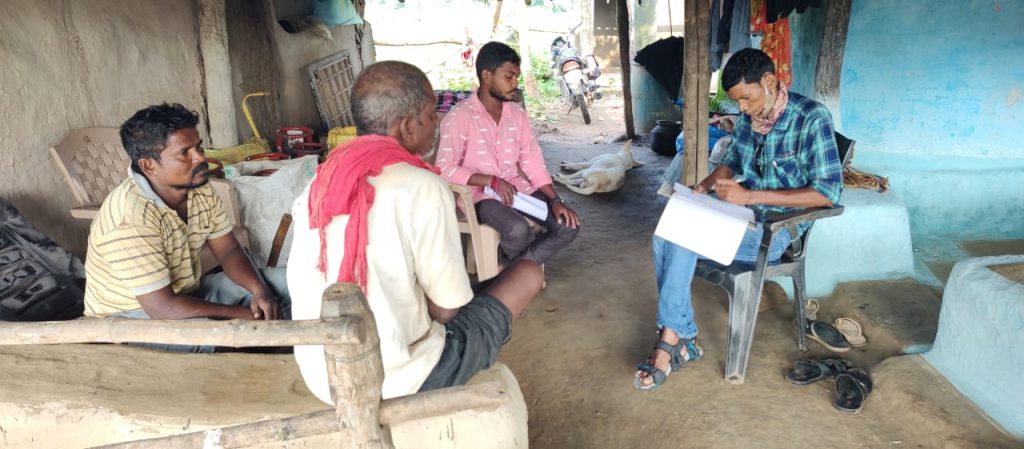 What do you love about your current job
I grew up among these forests and today I am working here only. I personally believe that humans are incomplete without forests.The forest is a teacher from which we can learn many things. I feel it should be protected and I want to spread this same thought to others. I am happy that we are being able to help the local community through various initiatives due to which they are more receptive to our conservation messages and also take part in a few initiatives with us.
Could you share a key learning or experience from the field
I recollect this incident during my younger days when I was traveling through the forests of western Pench on my bicycle, and came across a snake attacking a mouse. I felt sorry for the mouse, stopped my bicycle, and drove away the snake. I felt good about my actions and narrated the incident to our conservation officer Mr. Awasthi. He was very upset about my decision and explained to me that everything occurring in nature is a part of a well-balanced cycle and happens for a reason. Hence one should not interfere with or try to change this cycle. This was an important learning which always stays with me.
Have you experienced a positive change regarding conservation in your area
Earlier, tree felling and illegal hunting were rampant in our areas. Partly due to the fact that Govt. housing schemes were absent. The community used to cut trees for making houses or hunt wildlife in case they wanted to prepare a special treat for the guests. This changed with the advent of the Village-Eco Development committee scheme in 2011 as a part of which villages were provided with funds for conservation initiatives. With these funds, subsidized LPG cylinders were provided to households to reduce firewood consumption. Secondly, high-yielding cattle were provided with the aim of reducing the number of cattle and the grazing pressure on the forests. Furthermore, illegal poaching and fishing have reduced in this area due to the increased awareness and provision of alternative sources of livelihood.